Shenzhen, Henan 2008
On our second trip to China in February 2008 we visited Henan province where we celebrated Lunar New Year and visited historic sites. We also returned again to Shenzhen.
This is the story of my trip – while reading this story you can at the same time view the Photo Album from this trip (opens in new window/tab).
Introduction
As we had done in 2007 we flew to Hong Kong and then crossed the Hong Kong SAR (Special Administrative Region) border into Shenzhen, and returned the same way. From Shenzhen we flew to Zhengzhou, the capital city of Henan Province in central China, and from the Zhengzhou airport drove to my friend's home town of Xiangcheng Henan.
We celebrated Lunar New Year in Xiangcheng, and while we were there we travelled to Kaifeng and Luoyang on a 2-day drive to look at historic sites.
For our few days in Shenzhen at the beginning and end of the trip we again enjoyed the hospitality of the friendly people I had met on my first visit to Shenzhen in 2007.
We had almost cancelled the trip because of the snowstorms that had severely impacted China in the previous few weeks, but fortunately we decided to still go ahead. The weather was cold in Henan (maximums mostly not above 2 degrees Celsius) but we weren't affected in any way by the snow which still covered the ground in many places. Major government cleanup operations had ensured that roads and airports were clear and safe for travel.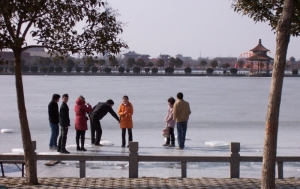 A frozen lake in Kaifeng (Galleries)
Xiangcheng Henan
Xiangcheng is a rural city with a population of about 1 million people located in the south of Henan province. In contrast to Shenzhen, Xiangcheng is only at the start of the journey of opening up, with the city government commencing the modernisation of the city and seeking to attract new business and industry. It's not currently a tourist city, although it does have some notable historic and cultural sites, and I would be one of the few westerners to have ever visited.
Xiangcheng is the friendliest city I have ever visited and I found myself not wanting to leave. I spent many enjoyable hours with my friend's extended family, who made me feel very welcome as one of the family, and many people I passed in the street who knew some English offered a friendly "hello". The wellbeing of family and community is clearly very important to Chinese people.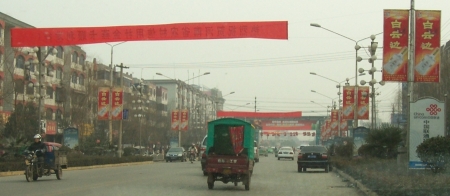 Xiangcheng, Henan (Galleries)
Lunar New Year
Lunar New Year is part of the annual Spring Festival, which is one of a number of major traditional Chinese Festivals throughout the year. Lunar New Year is celebrated in the traditional way in Xiangcheng, with firecrackers and the use of traditional red decorations on homes and in the streets, and it was an incredible experience. The firecrackers are in long strings which are rolled up for sale, and each roll can have up to several thousand firecrackers. Firecrackers were set off across Xiangcheng on New Year's Eve and New Year's Day, with the greatest intensity being at midnight to mark the start of the New Year. At this time an amazing cacophony of firecrackers echoed across the town, and also across many other towns and cities around China.
Another Lunar New Year tradition is the making of dumplings by the family. I was invited to join in and taught how to make the dumplings, and after a time I had actually managed to make a few that my hosts said were not too bad.
Lunar New Year is only part of the Spring Festival, and I hope to return to China to experience more of the Festival. There are local variations of the celebrations across China, and for safety reasons people are not permitted to let off fireworks in some of the larger cities, where instead there are organised public fireworks displays. It is traditional for Chinese people to travel back to their families for Spring Festival, so anyone planning to visit China for Lunar New Year should book travel and accommodation well in advance.
Kaifeng and Luoyang
Kaifeng and Luoyang are two of the four ancient Chinese capital cities located in Henan Province, the others being Anyang and provincial capital Zhengzhou. Kaifeng and Luoyang. Henan Province has a very long and rich history, and is described as the cradle of Chinese civilization. Kaifeng and Luoyang are in the north of Henan province, located east and west respectively of Zhengzhou.
For our two-day tour we travelled by car using Henan's extensive expressway network. The expressways are signposted in both Chinese and English, and numerous brown-and-white tourist feature signs are found on the expressways and also in the towns and cities. From the number of features shown on many signs, months could be spent taking in all of the attractions that Henan has to offer, let alone the rest of China. For more information on Henan's many attractions visit Amazing Henan.
In Kaifeng city we visited Xiangguo Temple, the Dragon Pavilion and the Iron Pagoda. Development in Kaifeng is restricted to protect historic streetscapes and buildings and also the ancient city below. Flooding from the Yellow River has repeatedly impacted on Kaifeng, with the original 12th century city now 8-9 metres below ground.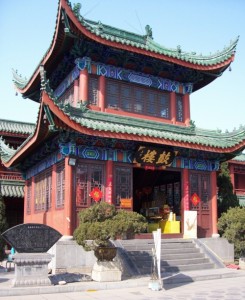 Xiangguo Temple was first constructed in 555 AD and has played an important role in the development of Buddhism in China. The temple was rebuilt during the Tang Dynasty (618-907 AD). The Dragon Pavilion is the former imperial palace of the Song Dynasty (960-1279 AD). It was extensively rebuilt in the Qing Dynasty (1616-1911 AD) and is surrounded by two lakes, Pan Lake and Yang Lake, both frozen at the time of our visit. The Iron Pagoda is a Buddhist temple pagoda constructed in 1049 AD. The use of the word "Iron" in the name of the pagoda refers to its colour and not its construction material, the pagoda being built from brick and externally tiled.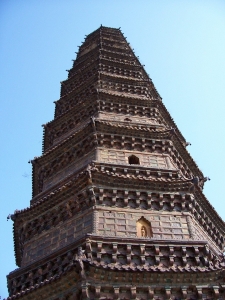 In Luoyang we visited White Horse Temple and the Longmen Grottoes. With over 1900 years of history, White Horse Temple is described as the cradle of Buddhism in China. The World Heritage listed Longmen Grottoes were commenced around the year 493 AD when the capital was moved to Luoyang. They were continuously built during the subsequent 400 years until the Northern Song Dynasty (960-1127 AD). Longmen Grottoes has over 1,300 caves, 2,300 holes and niches, and 100,000 buddhist statues.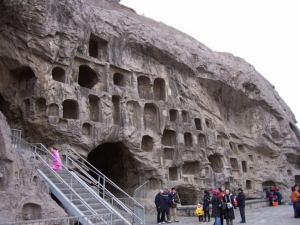 Longmen Grottoes (Galleries)
For the stories and pictures from my other trips to China see My China Trips and the Galleries.