Shenzhen 2007
At the invitation of Chinese friends, my first China visit in July 2007 was to the city of Shenzhen, located adjacent to Hong Kong.
This is the story of my trip – while reading this story you can at the same time view the Photo Album from this trip (opens in new window/tab).
Introduction
Visiting Shenzhen gave me a great introduction to China. Described as the window of China's opening up policy, Shenzhen was established as a Special Economic Zone in 1980 and since that time has grown from a small village into a major and economically significant city.
On this one-week trip we visited the Window of the World Theme Park and the Fairy Lake Botanical Gardens, and enjoyed lots of great shopping and dining. We stayed in Futian District in central Shenzhen, just near the Coco Park Shopping Centre which had opened not long before our visit.
Our dining experiences included Cantonese, Mongolian and Sichuan cuisines, and the most extraordinary buffet restaurant I have ever seen. This restaurant featured high-quality dishes of cuisines from around China and around the world – and the dessert area alone was larger than many entire buffet restaurants in western countries.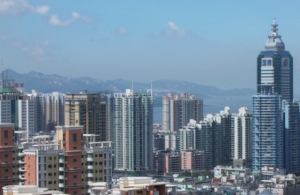 Futian District Shenzhen (Galleries)
Window of the World theme park
Window of the World theme park features over 130 detailed miniature replicas of notable landmarks throughout the world in eight international areas, including the pyramids of Egypt, a 1/3 scale Eiffel Tower, Buckingham Palace, Niagara Falls and the Sydney Harbour Bridge and Opera House. There are also cultural performances from around the world, and several fun rides.
We travelled from Futian to Window of the World using the Shenzhen Metro, a modern and efficient new underground rail system. Two lines had been built prior to the time of our visit, and the network will progressively be expanded in the coming years.
Window of the World theme park (Galleries)
Window of the World is located in Nanshan District in an area called "Overseas Chinese Town" where there are also three other theme parks – Splendid China, Chinese Folk Culture Village and Happy Kingdom – and other tourist facilities.
Fairy Lake Botanical Gardens
Situated at the foot of Wutong Mountain, Fairy Lake Botanical Gardens are a large area of green space spread around a tranquil lake. There we visited the Hongfa Buddhist Temple, which is one of the largest temples in Guangdong Province, and the ancient petrified forest. The petrified forest was fascinating – I had seen lots of fragments of petrified wood in my earlier days of bushwalking, but never a forest of petrified trees.
We also wandered along the lake edge pathways, watching the water birds and taking in the large areas of lotus plants, and hired an electric boat to see more of the lake.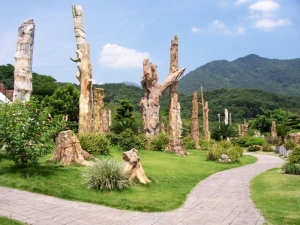 Petrified Forest, Fairy Lake (Galleries)
Shenzhen hospitality
In appreciation of the great hospitality and introduction to China in received on my trip, I established the first version of this website with the aim of encouraging other westerners to learn about China and start their China experience with a visit to Shenzhen. I was also inspired to make further visits to explore more of China, and to record those other experiences here for others to enjoy.
To find out more about Shenzhen see:
For the stories and pictures from my other trips to China see My China Trips and the Galleries.