Henan, Anhui, Zhejiang 2009
My August 2009 trip to China involved a two-week driving tour of outstanding natural and cultural attractions in Henan, Anhui and Zhejiang Provinces, as well as the capital cities of all three provinces.
This is the story of my trip – while reading this story you can at the same time view the Photo Album from this trip (opens in new window/tab).
Introduction
As with most of our travels in February 2008, the journey was again a road trip using the excellent expressway network. Our trip began in the city of Zhengzhou, capital of Henan province, where we stayed for three nights and went on day trips to the nearby Songshan Shaolin Temple and Yellow River Scenic Area. From Zhengzhou we travelled to Hefei, capital of Anhui province which is located to the east of Henan province. We stayed in Hefei for two nights, then travelled south to the mountainous Huangshan area, visiting Taiping Lake on the way.
During our six days in the Huangshan area we visited Huangshan (Tunxi) city old street, the World Heritage listed ancient villages of Xidi and Hongcun, the Huangshan Bamboo Forest and the Yellow Mountain (Huangshan) World Heritage area. We also took a day trip to Thousand Island Lake (Qiandao Lake) in Zhejiang province, including a brief visit to West Lake in Zhejiang capital Hangzhou. After leaving the Huangshan area we travelled to Wuhu city for two nights. Wuhu is also in Anhui province and located on the Yangtze River. The final two nights of our trip were spent in Xiangcheng in Henan, where we had previously spent Lunar New Year in February 2008.
The weather was a complete contrast to the mid-winter weather of our previous trip in February 2008. This time it was mid-summer, with temperatures above 35 degrees Celcius for most of the trip, and mostly high humidity too. Despite the weather being uncomfortable at times we weren't in any way dissuaded from our plans of two weeks of travel taking in historic and natural attractions, city shopping, and of course dining out.
Zhengzhou
Zhengzhou is a modern city and also one of the four ancient Chinese capitals in Henan, the others being Kaifeng, Luoyang and Anyang (we visited historic sites in Kaifeng and Luoyang in February 2008). We stayed in Zhengzhou's old city area where there is excellent shopping and dining on the tree-lined streets, and went on day trips to two of the nearby attractions – the Songshan Shaolin Temple and Yellow River Scenic Area.
Zhengzhou's tree-lined streets (Galleries)
Our afternoons and evenings in Zhengzhou were spent shopping, mostly for clothes, and enjoying Zhengzhou's excellent dining. A friend of my friends who lives in Zhengzhou recommended some restaurants and in our time in the city we were able to enjoy two of them. One was a New Sichuan Cuisine restaurant and the other a Hot Pot restaurant (Hot Pot also originates from Sichuan province). The Hot Pot restaurant had three levels and seating for more than 1000 people – soon after we arrived it filled completely with many people then waiting. The food and service at both was outstanding – two of the best dining experiences I've ever had. Hot Pot is most popular in winter, and involves a pot of stock in the middle of the table or separate individual pots for each person at the table. The stock can be either very mildly spiced or have very hot spices. The pot is kept simmering by an electric hot plate or a gas or spirit flame, and ingredients such as thinly sliced meat, vegetables and dumplings are progressively placed into the pot and are cooked at the table. Once cooked, the food is eaten with either a sesame seed or hot spicy dipping sauce.
One evening we visited the Erqi Memorial Tower and adjacent Erqi Square which are at the centre of a major commercial area in downtown Zhengzhou. Also called February 7 Tower, the Erqi Memorial Tower commemorates the great Erqi Strike of 7 February 1923 launched by Jinghan (Beijing-Wuhan) Railway workers. Erqi Square is a popular social gathering area in the evenings.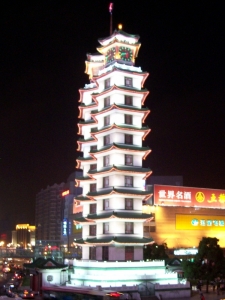 Erqi Memorial Tower (Galleries)
Songshan Shaolin Temple
The Songshan (Song Mountain) Mahayana Buddhist Shaolin Temple was established in the 5th century and is well known as the home of the Shaolin Kung Fu martial art. It is a good day trip from Zhengzhou, or a few days could be spent there as there's quite a bit to see. The relative cool of the mountain was a pleasant relief from the heat of the lowlands. The heavy rain from a storm the night before had turned creeks into rushing torrents, and cloud and heavy mist still shrouded the mountain. While preventing any views, the mist and some light rain added an air of mystique to the temple and in particular to the pagoda forest.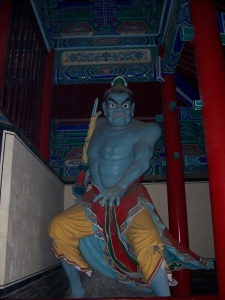 The pagoda tombs of the pagoda forest at the Songshan Shaolin Temple are the resting place of prominent temple masters. The 228 stone or brick pagodas have been built from 791 AD through until today. Each pagoda has an odd number of levels (1, 3, 5 or 7) based on the achievements of the Buddhist master – the higher the achievements the more levels. The dynasty in which each pagoda was built has determined the shape (round or square) and the number of sides (4 or 6). Built in 791 AD, Master Fawan's pagoda is the oldest in the pagoda forest.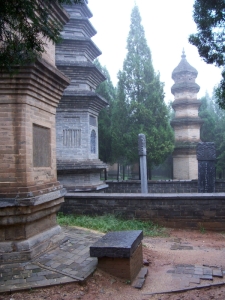 Yellow River Scenic Area
The Yellow River Scenic Area is at the terminal point between China's loess plateau and the North China Plain. The Yan and Huang Emperors monument towers over the area – here five thousand years ago Emperor Yan and Emperor Huang formed an alliance on the North Mount Mangshan, the beginning of thousands of years of Chinese civilization. The statue of a mother lactating her child represents the way in which the Yellow River nurtures the Chinese people.
Flowing from the loess plateau, the Yellow River is the most sediment laden river on earth. Loess is a highly erodible sediment formed by the accumulation of wind-blown silt and smaller variable amounts of sand and clay. Because of its sediment load and the construction of dykes aimed at preventing the significant loss of life and property that previously resulted from river flooding, the Yellow River is now flowing higher than the surrounding landscape for much of its traverse of the North China Plain. This is a significant management challenge for river authorities.
Hefei
A day's drive from Zhengzhou saw us arrive in Hefei city, capital of Anhui province. We spent much of our short time in Hefei shopping in the Times Square area which is adjacent to where we were staying. Hefei is currently less prosperous than other provincial capitals in eastern China. This means that prices are very good, particularly for electronics, and money spent here helps to improve the standard of living of the local people. While in Hefei we also took the scenic drive around the city centre which is ringed by a green belt of parks, waterways, lakes and historic sites.
Spectacular drive to Huangshan
A half-day drive from Hefei saw us arrive in the Huangshan (Yellow Mountain) area in southern Anhui province. On the way we briefly exited the expressway to visit the beautiful and tranquil Taiping Lake. The southern half of the expressway between Hefei and Huangshan has recently been constructed, and has numerous tunnels and viaducts passing through postcard scenery of forested mountains, numerous small historic villages, and deep valleys with clear rivers and streams running over stony beds and small cascades. This spectacular road is destined to become one of the world's great drives.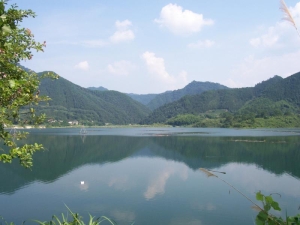 We stayed in Huangshan city, the major centre for the area, and from there went on day trips to the Xidi and Hongcun World Heritage listed ancient villages, the Huangshan (Yellow Mountain) World Heritage area, the Bamboo Forest, and Thousand Island Lake (Qiandao Lake) and Hangzhou in adjacent Zhejiang province.
Tunxi
Huangshan city is a picturesque river city encompassing the historic city of Tunxi which is now a district of Huangshan. A highlight is the fascinating old commercial street which has buildings dating from the Song, Ming and Qing dynasties, some more than 700 years old. The 1.5km long and 7m wide street has hundreds of old well-preserved shops, with some businesses having been in continuous operation for more than 120 years. The street is quiet in the early part of the day, then by evening it becomes an energetic buzz of locals and tourists. We dined out several times in Tunxi district, sampling Anhui's distinctive and very tasty cuisine.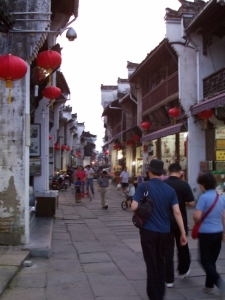 Huangshan Old Street (Galleries)
Xidi ancient village
The World Heritage listed boat-shaped Xidi village has a long history of over 950 years. It features 124 well-preserved residences with the distinctive Anhui architecture of whitewashed stone walls and ornate tiled roofs. A number of the residences are open to the public where stunning carved timber interiors and restful garden courtyards can be enjoyed.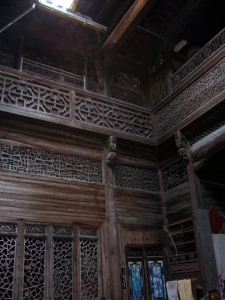 House interior, Xidi (Galleries)
Sky windows are a common feature of house interiors, helping to keep interiors cool in the intense summer heat. Xidi's World Heritage listing prevents households from installing air-conditioning, but electric fans can be used to combat the intense summer heat – one can be seen in one of the Xidi photos in the Galleries. Another picture in the Galleries shows a balcony overlooking the square from which young women could unobtrusively check out the young men of the village.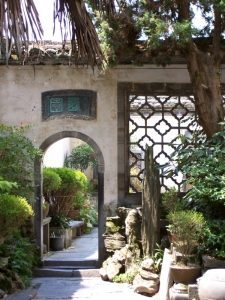 Western Garden, Xidi (Galleries)
Many houses in southern Anhui province continue to be built in Anhui's distinctive architectural style of whitewashed stone walls and ornate tiled roofs. These are modern dwellings that respect the elements of the architectural style rather than just replicas of the old.
Hongcun ancient village
The World Heritage listed Hongcun village has the shape of a buffalo and has more than 140 well-preserved residences from the Ming and Qing dynasties said to be among the best of their kind in China. A number are open to the public, and the beautiful South Lake and Moon Pond are prominent features. Hongcun was a filming location for the movie Crouching Tiger Hidden Dragon.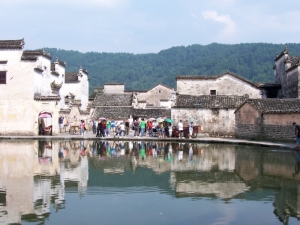 Moon Pond, Hongcun (Galleries)
Bamboo Forest
The Bamboo Forest is managed for bamboo timber production and was also a filming location for the movie Crouching Tiger Hidden Dragon.
Huangshan (Yellow Mountain)
Reaching 1864m at its highest point, the spectacular scenery of the World Heritage listed Huangshan (Huang Mountain, Yellow Mountain) features jagged granite outcrops, mystical rolling cloud mists and the distinctive Huangshan pine tree (Pinus hwangshanensis). A tourist attraction for some 1200 years, Huangshan has been the inspiration for art, literature and gardens.
Huangshan (Yellow Mountain) (Galleries)
Thousand Island Lake and Hangzhou
Thousand Island Lake (Qiandao Lake) in Zhejiang is a man-made lake featuring 1,078 large islands and several thousand smaller ones. West Lake in Hangzhou, capital of Zhejiang province, is one of China's most famous attractions, and has been the inspiration of many 'West Lake' features in other cities, towns and villages. We called in to Hangzhou for a few hours on the way back to Huangshan City from 1000 Island Lake – far too short a time to be able to take in all that West Lake and Hangzhou have to offer.
Wuhu
After leaving the Huangshan area we travelled to Wuhu city, located on the Yangtze River. We visited Wuhu for just a day on the way back from Huangshan, but several days at least could easily be spent here. The excellent publication Travel in Wuhu, which was in our hotel room, details Wuhu's range of interesting historical and natural attractions as well as providing information on shopping and dining out. A highlight of our short visit was dining out in a restaurant in Wuhu's famous Phoenix Gourmet Food Street, lined with dozens of excellent restaurants full of local people. The Anhui cuisine restaurant we chose had been in business for more than 100 years. We also visited Wuhu's famous pedestrian shopping street. Closed to vehicles and very popular, it is one of the top three pedestrian streets in China, together with Beijing Wangfujing and Shanghai Nanjing Road.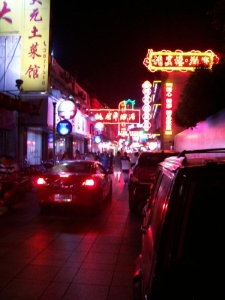 Phoenix Food Street (Galleries)
Xiangcheng Henan
Our final destination on our excellent trip was my friends home town of Xiangcheng in Henan. Here we encountered our only very rainy day for the trip which meant the planned visit to Xiangcheng's historic sites could not go ahead, however friends of my friends took me on a shopping trip and for a great lunch at a Hot Pot restaurant. It was my second Hot Pot meal in 24 hours, having been to dinner at another great Hot Pot restaurant with my friends the evening before (and my third Hot Pot meal in less than two weeks). Chinese health professionals advise a Hot Pot meal should only be an occasional treat as it is easy to unintentionally overeat because the food is progressively cooked at the table, but such good food is very hard to resist!
For the stories and pictures from my other trips to China see My China Trips and the Galleries.