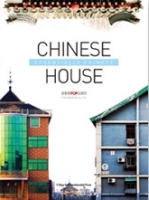 In my travels in China I've been fascinated by Chinese houses and their architecture, and when visiting the Imperial Palace (Forbidden City) in Beijing last month I was delighted to come across the book Chinese House in one of the Palace Museum shops.
Chinese House is a captivating pictorial biography of the common buildings in the cities and countryside of China. It's produced by the Beijing-based Popcorn Idea Factory.
Other books in the Popcorn Idea Factory Essentially Chinese series include Chinese Stuff, a detailed exploration of the things usually used by ordinary people in their daily lives in China.